About Renee
Author
Awakener
Acoustic Alchemist

Catalyst

Energetic Accelerator

Speaker

Teacher

Vibrational Sound Artist
"My intention is to assist people in shifting their frequency. I source my deep-hearted Universal wisdom from many lifelines.  The human experience when in tune with the Universe is one of being in a constant state of expansion, contraction, flux and flow. Each soul is unique.
I have an intuitive knowing that I use as a compass.  It allows the person who I am assisting to remember, claim and embody who they are.  I offer deep personal sessions, events, online offerings and products. Each person is empowered to engage with who they are beyond their story.  Alignment of body, mind, heart and soul is what others call Wholeness."
~  Renee S LeBeau, January 2017
A self-trained musician born with a deep inner connection to sound. I learned how to play guitar at the age of 18. However the size of my hands suggested that I try percussions. I played djembe, doumbek, hand drums and my all time favorite, egg shakers. I spent many years playing with friends in various types of bands. Moving my focus into using percussive energy to connect with the Earth, I made hand drums and rattles from gourds. This would be the genesis of using sound in a more indigenous way including shamanic drumming circles.
In 1990, I began using my speaking voice to shift energy and assist my clients. Both my voice and energetic field became a vehicle of transmuting energy. I dove in deeper and studied Tibetan bowls with a 7th generation Tibetan shaman and purchased a set of 7 authentic tibetan bowls and tingshas (cymbals). Crystal bowls and the hang were added in to create different vibrations and frequencies.  These along with other percussive instruments make up the Acoustic Alchemy band.
In 2010, I attended the 5 day Sound Healing Training facilitated by Tom Kenyon.  I received my vocal training as a sound healer from this amazing teacher and sound shaman. Since then I have taken workshops with Matthew Kocel, Yeshoshua, "Josh" Brill, Ariana Saraha, Madi Sato and Chrissie Fire-Mane Charley. Through chanting and singing devotional songs from many different cultures and languages, I finally broke down my prior barriers. I continue to embrace vocalizing from an embodied knowing. I have sang in recording studios for a variety of unique musicians and produced 2 cds.
Since 2006, I have been offering sound concerts, deep sound journeys, group events, ceremonies, workshops and private sound sessions. I enjoy collaborating with other Sound healers and musicians.  My greatest love is the creation of vast soundscapes.  The use of sound and languages creating a harmonic field influencing the body and the surrounding space.
An Introduction to
Tibetan Singing Bowls
A Brief History
The Tibetan Singing bowls appear to originate in the pre-buddhist shamanic Bon Po culture.  This culture seems to date back 3000 years to the Bronze Age in China and during its peak extended geographically as far as Burma and Indochina.  In modern times, the bowls continue to be made in the regions of Bhutan, Nepal, India and Tibet.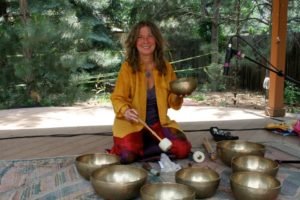 The original bowls were cast by hand and forged from 7 sacred metals which correspond to the 7 known or inner planets.  These are:  Gold-Sun; Silver-Moon; Mercury-Mercury; Copper-Venus; Iron-Mars; Tin-Jupiter; Lead-Saturn.  The process took about one year and each of the layers were timed in relation to celestial events.
Sound Healing
The power of sound can be most easily understood from the standpoint of it existing as a waveform.  It has been scientifically proven that the act of listening to the singing bowls stops ones internal dialogue.  The intellectual center is suspended and the emotional or feeling center is activated.  This makes the bowls an excellent vehicle for meditation, creative projects and finding ones center.  It can also be used a safe vehicle for becoming aware of and connecting with buried emotions and deep trauma.
The Tibetan singing bowls are used by sound healers to tone and balance the body's energy field.  Since the body is comprised of 80% water, it is an excellent conductor of sound waves.  More specifically, the sound of a large singing bowl creates a tone which vibrates through the entire body and is transmitted via the skeletal, muscular, circulatory and nervous systems.
The playing of the singing bowls can be done in a variety of ways.  I facilitate individual sessions with people, group sessions and concerts.  Each method is unique and each person experiences this differently.
Explore some of Renee's Offerings
Click HERE for Acoustic Alchemy Events Schedule