Metatron's  Heart
A dynamic sound journey that gives the listener a direct experience of Infinity.  This CD is an ethereal, multi-dimensional soundscape using 7 tibetan bowls, 2 tingshas, a crystal bowl, tabla and voice.  The creation of sacred geometry in sound functions as an inner technology; a sonic portal that both communicate and create the building blocks of the quantum Universe.  If listened to repeatedly, it can generate profound affects on the listener.  It can be used with other healing modalities to enhance and amplify.  It can also be used as a self-guided accelerator of consciousness.
http://www.ahkana.com/Metatrons_Heart_samples.htm

Track 1:  Eonde
Track 2:  Owayu
Track 3:  Teosil
Track 4:  Heu Ohuasi
Track 5:  Kieru
Track 6:  Nowayhi Niahi
Track 7:  Eom
Track 8:  Heyawi
Track 9:  Uhroe
Track 10: Ahuwaye

Total Time:  58:13
$15.95 plus shipping
Metatron's Heart is a multi-dimensional soundscape of sacred geometry in sound. An artistic and intentional rendering of the 5 platonic solids that create Metatron's Cube with the addition of a Vesica Pisces placed at the centerpoint.  If listened to in consecutive order, each track builds upon the energy of the prior to create a complete inner alchemical journey.  It is my interpretation and attunement with the intelligence of the Galactic Heart, the Cosmos and Creation.  It connects you to the pulsing of creation in an erotically dynamic dance into and out of form throughout infinite space.
Tibetan Bowls, Tingshas, Crystal Bowl and Voice by Renee S LeBeau
Tabla by Akshara Weave
Composed by Renee S LeBeau and Akshara Weave
Produced, Engineered and Mastered by Akshara Weave
Copyright 2010 © Renee S LeBeau & Ahkana Acoustics
Graphic Design by Adam Pierce * www.carbonmade.com
Front Cover Image "Metatron's Heart"  by Tim Provost
Back Cover Astronomical Image "NGC6515" by R Jay Galbany
~ ~ ~ ~ ~ ~ ~ ~ ~ ~ ~ ~ ~ ~ ~ ~ ~ ~ ~ ~ ~ ~ ~ ~ ~
SONIC SPIRAL
A creative collaboration and live sound event * Renee S LeBeau and Rick Bastine
To order physical cd:  http://www.ahkana.com/creations.htm
Sound Clips/Download:  http://www.ahkana.com/Sonic_Spiral_samples.htm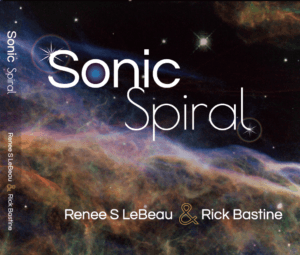 Track 1: Descending Dragon  9:05
Track 2:  Star Dance  8:56
Track 3:  Cosmic Tapestry  8:47
Track 4:  Lightning Dream  7:35
Track 5:  Whale's Song  9:50
Track 6:  Windswept  3:01
Track 7:  Ancestral Spiral  8:22
Track 8:  Crystal Choir  7:58
Track 9:  Phoenix Rising  8:00
Total Time:  72 minutes

Renee S LeBeau * Vocals, Tibetan Bowls, Crystal Bowl, Hang, Tingshas, Rainstick, Thunder Tube
Rick Bastine * Vocals, Crystal Bowls, Alchemy Bowls, Didjeridoo, Rainstick, Ocean Harp.
Live Performance Recording * April 2014 *  Santa Fe Center for Spiritual Living
Live Recording Engineer – Patrick Bates * Lightworks Media, Inc.
CD Mixing and Mastering – David Michael Tardy
Produced by Renee S LeBeau
Graphic Design – Jasmine Quinsler * www.miniswirled.com
Photo Credits:  Hubble Site Gallery